Get up to $20,000 back with our Las Vegas Home Buyer Commission Rebate Program!
Why pay thousands of dollars more to buy a home when you can get a commission rebate and save thousands of dollars?
It makes perfect sense and we've saved our home buyers over $200,000 to date with our Home Buyer Commission Rebate Program!
Buying a Resale
We'll find you a home and negotiate the best deal possible for you and you'll get a commission rebate from us when you close on your home. We have saved thousands of dollars for home buyers with our home buyer commission rebate program.
How Do Rebates Work?
It's no different than a rebate offer you might see at a store, except, in this case, you could be saving a lot more money. If you are financing your home you'll typically have about 3% in closing costs.
In today's real estate market a buyer's agent's commission can vary between 2-3%.
The purchase price includes a commission anywhere from 4-6%.
This commission gets split between the seller's broker and the buyer's broker.
The buyer's broker rebates you a portion from their commission on the HUD 1.
With a rebate, you won't have to come out of pocket with all the closings costs.
How & Why We Do Commission Rebates
While we still play an invaluable role in negotiating for our clients and getting them through the hiccups of the home buying process, the internet has made it easier for homebuyers to do some of the research on homes potentially saving us time.
We don't have to pay franchise fees.
We don't have broker commission splits
We don't have junk fees
We pass on our time savings as a rebate.
You get max value while not sacrificing service.
Biggest Benefit from a  Home Buyer Commission Rebate?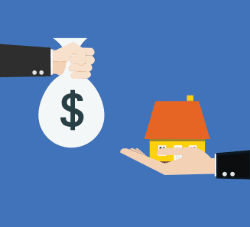 It makes buying a home less expensive!
Typically a buyer's agent gets 2.5 to 3% of the commission that a seller pays in order to sell their home. Additionally, The Internal Revenue Service has ruled that a buyer commission rebate is not taxable – it's considered as an adjustment to the buyer's basis in the house, which lowers the price. Click here for further information on the IRS position on this.
Save More And Get More
With the money you save with the home buyer rebate, by not having to come out of pocket with all the closing costs, you'll have more money to do home improvements or whatever else you choose.
Rob & Delilah have over 20 years servicing the Las Vegas & Henderson, NV communities, let us put our experience to work for you!
*ALL Home Buyer Rebates must be approved by your lender and show on the final HUD-1.